Every Pakistani soulful music lover's dream is an Atif Aslam and Abida Parveen collaboration and it just came true this Eid. The two came together for the love of their singing and fans, with a track called Pardadari.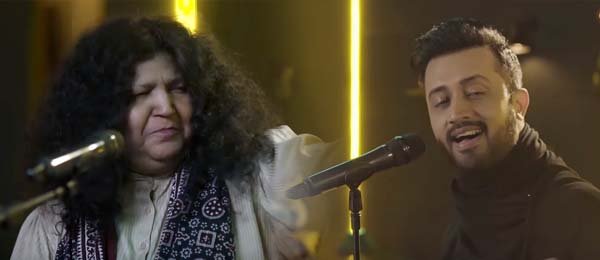 The song is a part of Sarang Latif's project called Bazm-e-Rang. Sarang Latif is the son of the living legend and female vocalist of the song, Abida Ji and well-known Pakistani radio shows producer, Ghulam Hussain Sheikh. Sarang has directed, as well as, produced Bazm-e-Rang. The album includes solos and duets from the songstress.
Talking of the song itself, it is a Sufi number that binds you on a whole different level. It starts off with Atif's soothing voice and mellifluous score. Then joins the tuneful chorus and the amazing Abida Ji hits in with her dulcet vocals. And the track takes you just along. Atif and Abida Ji, both, makes everyone of us feel the conversation with The Creator.
The profound music and lyrics are the best combination to put out our feelings and ever since the number released this Eid, it has been on repeat, on our playlists and our heads.
Click here to download Audio Mp3 of song Pardadari by Abida Parveen feat Atif Aslam
Share your thoughts -
---