The wedding has started! Yes, we are talking about the Pakistani cricketer Hassan Ali's wedding. Since yesterday, the couple's pre-wedding shoot has gone viral and it is filled with more romance than expected. The shoot took place at iconic locations like Jumeirah Board Walk, Burj Khalifa, Burj ul Arab and the Atlantis in Dubai. The bride to be looks absolutely gorgeous in all the pictures taken and the groom looks just as handsome.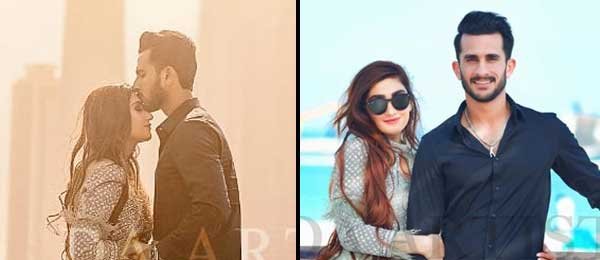 When the two met in the UK last year, who would have thought of something as big as a marriage. But here they are, despite belonging from the traditional rivals. Samiya, the beautiful bride to be is basically from Haryana and works for an airline. However, her family is settled in Dubai.
The wedding date announced was 20th August, that is today. But the festivities have begun. They had a decent Nikah on Monday. And last night, Hassan was spotted enjoying his Mehndi in a Green and White Shalwar Kurta, while his buddies wore Orange Kurtas. The boys had quite a fun night.
This is the fourth time that a Pakistani cricketer is marrying an Indian girl. The first one to do so Zaheer Abbas who married Rita Luthra in the 80′s, then it was Mohsin Khan who married the top actress of the time, Reena Roy in 1983; and the last was former Pakistani cricket team captain Shoaib Malik, who tied the knot with Indian Tennis star Sania Mirza.
Hassan Ali;s best friends, including Shaddab Khan, are all ready to set the dance floor on fire. And we are ready to keep you updated with everything that goes on!
Share your thoughts -
---