Pakistani film industry's main focus is usually on the romantic, comedy or action genre. We haven't seen a Pakistani horror movie in a long time now. It could be because of director's comfort zone, but when a filmmaker dares to step outside of his comfort zone, it is exceptional.
Independent film maker Abu Aleeha's "Kataksha" is Pakistan's 1st psychological horror film which has lead the audience speechless.
As a director and writer, Abu Aleeha has done a great job! Kataksha is a story of 4 employees of a news channel, who travel to Katas Raj temples to shoot. The Katas Raj is a complex of several Hindu temples connected to one another by walkways.
The cast has done a phenomenal job, Saleem Mairaj is playing one of the main lead role in the film. We have seen him playing supporting role in many other Pakistani films including Na Maloom Afraad 2 and Laal Kabootar and his acting has always been worth watching on the cinema screen. This time Saleem is playing driver of the team in the film while Kasim Khan plays the director of production (DOP) who is a flirt but also a philosopher. Namrah Shahid is the host of the show. She is fearless and bold. Kiran Tabeer is the producer. Mubeen Gabol plays the in-charge of the temples.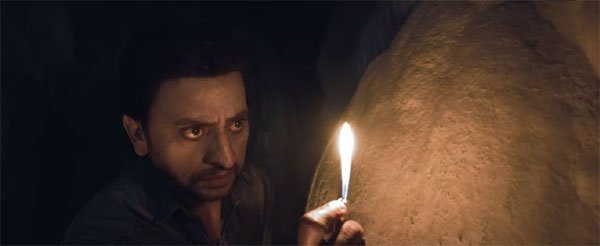 There are some beautiful locations that have been shown in the film though the film's budget is not so high, approximately  in around 98 lac the entire film is made but we must say the VFX, sound design, cinematography and art design are all beautifully shown.
We appreciate the director of Kataksha, Abu Aleeha, to come up with an horror genre for the audience.
Theatrical trailer of newly released Pakistani horror film Kataksha:
Share your thoughts -
---