Have you been wondering what is up with Generation's Insta stories these days? Well, don't worry, we have it all covered for you.
Generation has actually stepped up in support of Pakistani singer Meesha Shafi who was nominated for the Lux Style Awards 2019, but denied the nomination and decided to boycott the event. The reason is that Ali Zafar, who was accused by Meesha for harassment at work is nominated too. Generation, being a brand of stance, came up to support the female vocalist and boycotted LSA 2019.
GENERATION will not attend this year's Lux Style Awards where the brand has been nominated for Achievement in Fashion Design (pret), due to the inclusion of a nominee that has been repeatedly accused of sexual misconduct by multiple women.https://t.co/kPsYBzcbpl…

— GENERATION (@GENERATION_PK) April 22, 2019
Another name to stand up and step back in the favour of Meesha, were models Eman Suleman and Rubab Ali. More over, a well known make up artist, Saima Bargfrede, also supported Meesha's stand and withdrew from LSA 19.
In a social media post, Ms. Shafi thanked Eman and Generation, and added that she hopes to see women retain due self respect and safety while they work in the industry and speak up for themselves otherwise. However, she believes that strong women like these will eventually make it.
To all concerned. #LSA2019 pic.twitter.com/nfoHUlTf4W

— MEESHA SHAFI (@itsmeeshashafi) April 23, 2019
Another nominee to withdraw is the Sufi band, Sketches. The band had been nominated in four different category for their songs "Raat", "Nau Lakha" and "Meri Duniya". The band members came together to state that they are thankful to the jury but the cause of Me Too Movement comes prior to any award show. They do not accuse anybody's character but the withdrawal is to encourage brave women who come forward with such concerns. The band added that their responsibility as artists and even more as a human is to strive for a just society for all.
Another celebrity who went over the board to record his boycott was the amazing director Jami. He threw his trophy that he had won for his movie Moor. Whereas, designer Munib Nawaz said that people are quick to judge and that any unproven allegation should not be used to disregard an institution like Lux Style Awards.
Besides all this backlash from a number of celebs, some also came up to condemn such disgrace to the award show. One of them was Ahmed Ali Butt. He said that it is okay to take your nomination down or boycott but degrading an event is no point. Next was Iman Ali to condemn this protest against LSA 19. She thought that people were only doing it for the sake of fame and that they are not entitled to any judgements. Similarly, Frieha Altaf who has also been a director of Lux Style Awards previously, stated that the Me Too Movement had been a part of LSA before and if she was again given a chance, she would still continue to support a healthy environment because a safer workplace is everyone's hope. She added that it should be the harasser, if anyone has to step down and not the people who oppose.
To all this going on for all these days, LSA 2019 Film Jury stood up for themselves, stating that Lux and Unilever condemn any acts of sexual harassment, however the nominations are purely based on the cinematic work and not personal characters. The Film Jury concluded by saying that the case is being handled by Pakistani Judiciary and they have all the faith in them.
Resham, Fia Khan & Sabeeka Imam also expressed their view over this controversy.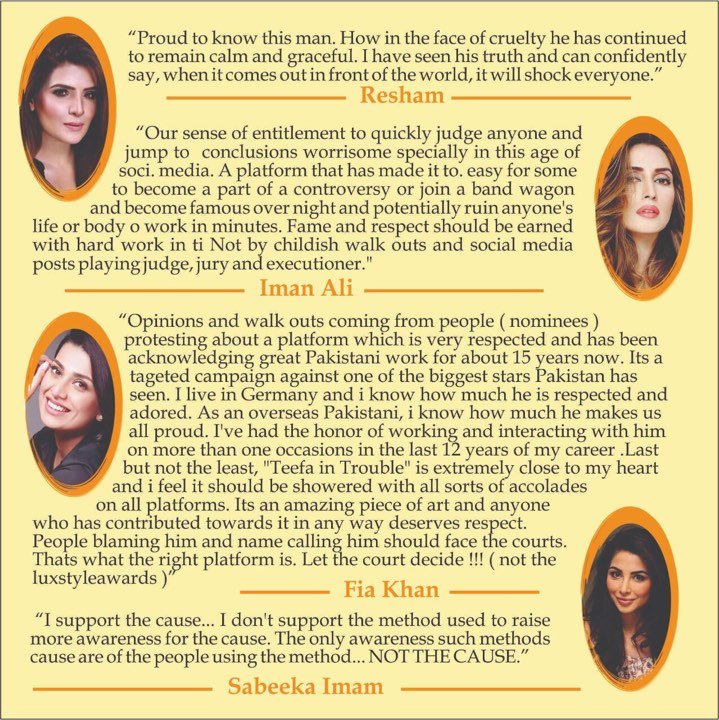 This whole case has been going on for an year now. Ever since Meesha accused Ali, there have been responses of all kinds from and outside the industry. Now it's getting to a whole new direction. Hence, we sincerely hope it does not affect the growth of our media industry. What do you have to say about this?
Share your thoughts -
---