Always partnerships with Wonder Women and introduce vending machines all over Pakistan to make menstrual products available for women in educational institutions.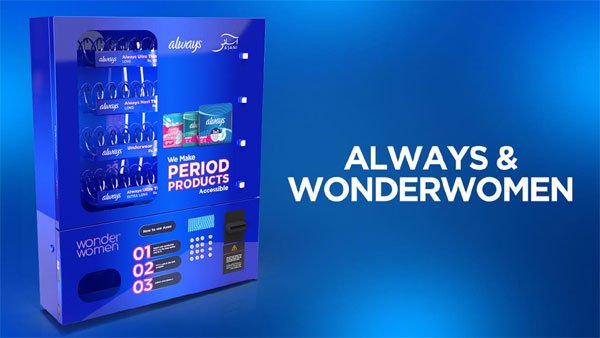 Finally! The girls will not feel isolated, confused and disturbed anymore. As Pakistan is a conservative country where society finds it difficult to educate young girls and encourage them about how normal Periods are. Due to this, many women prefer not to go out and shop for sanitary pads as they feel ashamed purchasing sanitary pads from male shopkeepers. When buying from a mart, they are quick to hide sanitary pads in a black shopping bag. Installing the vending machines in school and colleges will boost their confidence and it will make their lives a lot easier. A self-service machine will help women escape embarrassment.
It is a great initiative by Always to team up with wonder women as having vending machines for Sanitary Pads at educational institutes can save a lot of time and hassle for the girls, as it is enough pressure of studies in college, so tracking one's menstrual cycle and packing a pad is an added effort. Having pads readily available in college means one less thing to stress about and ensure hassle-free access to sanitary pads for all sections of society.
Wonder Women is a FemTech startup located in Lahore Pakistan that aims to ease women's menstrual hygiene using tech so women can truly be empowered. The Team has installed many machines till now in Pakistan and is now ready to install more machines with Always brand of sanitary pads in institutions to benefit students and teachers. The ease of access adds an advantage to these machines. It requires putting the notes inside the machine and pressing a button to use it. Educated as well as uneducated can very well use the vending machine

Share your thoughts -
---