Feroze Khan's Instagram account was gone after he walked as a show stopper with Hania Aamir for SFK Bridals at the finale of FPW on Friday 24th October.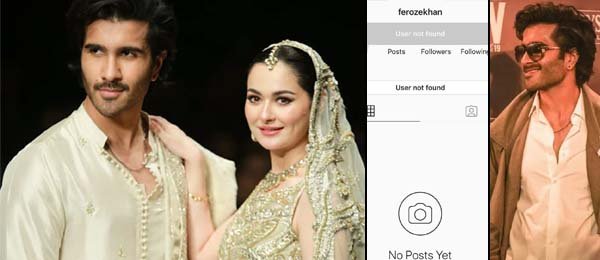 The video of the ramp walk has been taking the social media by storm! Both celebrities looked stunning in bridal attire!
Unfortunately no one knows the real reason behind Feroze Khan disappearing from Instagram after that night, We believe he cannot deactivate his own account because celebrities have a reputation and online presence to maintain in order to stay connected with their fans.
People are assuming a lot, it could be due to the Kashmir Issue because Feroze posted a sensitive content on his Instagram account few days ago therefore his account might have been removed by the Instagram team as it is not appropriate to post something like this.
Another reason could be because of the song that was playing in the background at FPW when he walked the ramp due to the copyrights Instagram might have removed his account.
Well who knows what it could be unless the man himself tells us the reason behind it! The fans are pretty disappointed with Feroze Khan because he is active on his Tweeter account but not telling the real reason to his fans.
Share your thoughts -
---