What is better than watching two individuals excelling in their respective paths of life and then one fine day, seeing them hangout, fall in love and finally get married?
Absolutely nothing. And we are all delighted to have been a part of Iqra Aziz and Yasir Hussain's adorable love story by watching and following them on social media. It feels as if we have lived all their moments with them.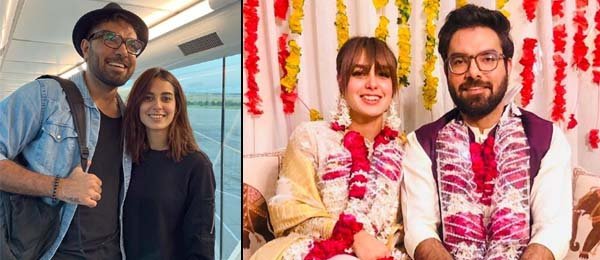 This beautiful couple met as friends and we could all see the spark that they have when they are together. They got engaged in a private family gathering earlier this year, however, for the world, Yasir popped out the question to Iqra at the Lux Style Awards 2019. And after all the chaos that the scene created, all we have to say is, What style!
Later we saw the couple visiting their designer friends and very openly telling that they will get married this year. And today, finally, they groom to be announced their wedding date. The Naach Naa Jaane's Akber, revealed a picture of his wedding invite, mentioning the date to be 28th December. The card is as colorful as the couple and the text is as witty as Yasir, always, is.
The hashtag to be followed is #iqyasirdaviyah; the guests are asked to not bring gifts but a lot of salaami. Well this is just how we expect the wedding to be. Are you looking forward to the wedding just as much as we are?
Share your thoughts -
---