All the celebrities from different fields of Pakistan joined hands with Imran Khan to show their affection and support towards the brave Kashmiris on Friday.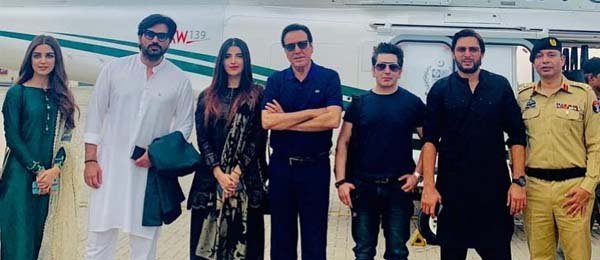 Boom Boom Afridi, the famous cricketer, made an appeal to the public on Thursday regarding joining Imran Khan's massive rally at Muzaffarabad against the brutality in Jammu Kashmir.
The prime minister himself announced about this rally in Pakistan Administered Kashmir on Wednesday. Glamorous celebrities of showbiz, cricketers, PT supporters, and Cabinet Ministers marked their presence at this rally.
We are sure that you are aware of the government "Every Friday Protest" campaign. People are showering their utmost support against the persecution in Indian Administered Kashmir.
The list of celebrities includes Javed Sheikh, Humayun Saeed, Shahid Afridi, Maya Ali, Hareem Farooq, Shehzad Roy, Sahir Ali Bagga and Faakhir along with many others joining hands for their love for Kashmiris. Patriotic songs by Sahir Ali Bagga and Faakhir added to the enthusiasm of the entire rally.
Besides, famous actor Shan used twitter platform to express his feeling through the status "Dear PM Imran Khan PTI sir, United we stand for the rights of Kashmiris. The whole Nation stands behind your call. Hope support prayers voice till freedom."
Nonetheless, it is so warming to see our nation join hands against brutality against the brand Kashmiris.
Share your thoughts -
---