There was a time it was tough to find anyone using another phone, it was almost odd if they were as Nokia was everywhere. Nokia was the go-to brand and for a decade held its market position. These were the days of GSM mobile phones with simpler functions and physical keypads. There were so many models that the brand put out but certain models reigned the world over such as the 3310 or 1100.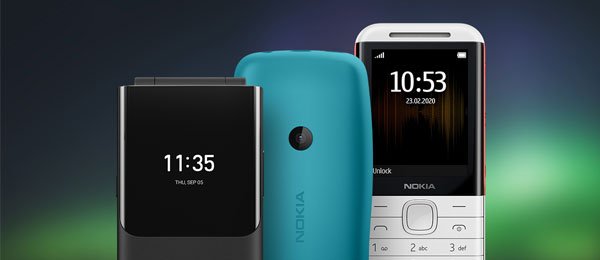 Nokia is a Finnish brand but what a lot of people do not know the GSM system was originated in that country as well. Today Nokia has revamped some of their older mobiles adding some newer features and brushing up the designs too. This gives users the ability to make use of some more modern features such as some apps built for their OS.
Even now Nokia has quite a few options so we'll list some of the more choice models:
Nokia 8110 4G
A phone that has a slide cover, famous for being in the movie The Matrix. The new version has 4G and is built with the KaiOS that is made especially for mobiles like this one. The new version is also available in a yellow color and as it is slightly curved it has earned it the name 'banana phone'. The KaiOS has a few apps such as WhatsApp, Twitter and Facebook made for it. This allows one to be connected in the new age sphere using a basic mobile.
Nokia 3310 4G
This was one of Nokia's many hit models, it had sold 126 million units! It is considered one of the hardiest mobiles to have ever existed. A reboot of this was almost necessary. The Nokia 3310 new version has 4G so it can connect to the internet, but it does not have WhatsApp, something customers were not too happy about. The space on this can be extended with an SD card, adding on 64GB which is more than ample space for this mobile.
Nokia 106
A dual-SIM mobile from Nokia. Otherwise, quite a basic phone with simple features. It does not have the newer integration of 4G. It does not have the option for an extension of space and has 4MB of space. This is a mobile to keep if one has lots of calls to make and wants a secondary number.
Nokia 150
Another more simple mobile, with the dual-SIM feature being the most interesting thing available to users. It has the microSD card slot so one can extend memory somewhat. Also, the Nokia 150 has Bluetooth so one can make use of wireless hands free and also use the device to play music from their storage card.
Nokia 5310
As far as design goes this is a more modern-looking mobile, with sleek lines and nice colors. The keypad is built into the body and is not the squishy rubber keypad. The screen is laid out with black bezels. It has 16MB of space which is more than a lot of the other options listed. One can also extend space using a microSD card. With this model one can also make use of the dual-SIM option, adding a lot more functionality to ones work lifestyle. 
Why these mobiles
A major reason these mobiles are used is that they make great secondary devices that have a long-lasting battery. This takes of load from one's primary device. Another reason is that they are sturdy, it would take quite a long drop for one of these to crack open. At most, the battery case will open and the battery will come flying out.
In today's time, there is another reason some people use these kinds of mobiles, they are trying to take a break from social media while still being accessible to call. It removes the temptation of even being able to download any such apps, allowing one to disconnect properly.
The prices of these Nokia mobiles are towards the lower end, making them affordable options as well.
Share your thoughts -
---