The most famous couple of Pakistani media industry Aiman Khan and Muneeb Butt have been the center of attention at each point of their love life. Be it their love affair making it to social media, their engagement, their one month long wedding, their honeymoon photographs and now performing their first Umrah together has become the biggest thing.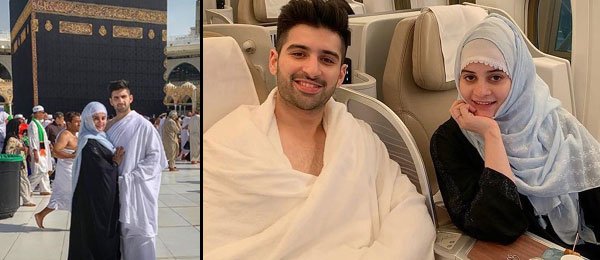 The two posted a picture from their flight to Saudi Arabia. Muneeb was wrapped in an Ahraam while Aiman wore a black abaya and a powder blue scarf. Both looked adorable and happy together. Since then celebs, and their family members have been sharing the pictures and wishing them a safe trip.
Well, it is not just the friends and family, in fact the couple's fans are pouring love from all around the world and blessing them. And with all the love coming along, there are also people bashing them for posting pictures to show off. We believe that they are already used to all kinds of responses from people.
We wish them a happy and fruitful journey of the holy place.

Share your thoughts -
---