Pakistan has world most beautiful places for visit, especially at its best in northern areas and Kashmir region. This part of the country is famous all around the world because of sky high mountains, green valleys, rivers, stunning lakes, and incredible wildlife.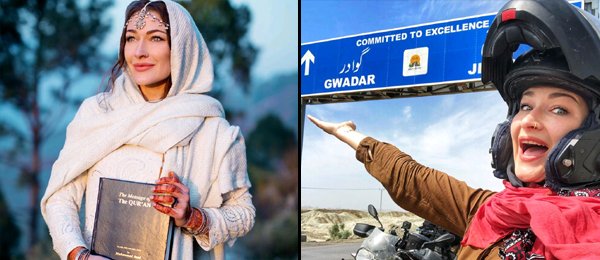 The Paradise on Earth Neelum Valley, mini Switzerland Swat Valley and Hunza are the major tourist attractions. People all around the world come to witness the natural beauty of our country Pakistan.
Almost a year ago a Canadian solo traveller, Rosie Gabrielle visited Pakistan with just her bike (that takes a real courage), she traveled to a lot of places such as Swat, Gwadar, Multan & Lahore for an amazing adventure and admired the real beauty of Pakistan.
Rosie felt peaceful and a very strong connection with Muslim people around her and wanted to feel like them as she said "she has been through rough time in her life therefore there had always been a lot of hurt in her heart however it changed right after God lead her to Pakistan".
Rosie decided to take the leap and convert to Islam. She took her social media to announce this news and said she knew Islam was highly criticized around the world but she knew the true meaning of the religion Islam which is peace, love and oneness.
We congratulate Rosie for such big and wise decision and wish her good luck for her new journey.
Share your thoughts -
---